COP26 gave us The Glasgow Climate Pact, an unexpected, last-minute agreement among the world's nations that "requests" countries raise their ambition again next year, creates a dialogue on funding for loss and damage, and pledges to double adaptation finance. The Glasgow Pact for the first time put the Intergovernmental Panel on Climate Change (IPCC), a group founded by the U.N. in 1988 to advance knowledge on human induced climate change, findings front and center under the first section of the Pact titled "Science and Urgency" and kept the Paris Agreement alive by resolving "to pursue efforts" to stay under the lower limit of 1.5°C degrees. While lacking the ambition and urgency needed to address climate-change, some of the key outcomes we tracked are highlighted below.
The Fossil Fuel Era is Over:
This is the first ever COP to explicitly target action against fossil fuels, calling for a "phase down of unabated coal" and "phase out" of "inefficient" fossil-fuel subsidies. Jennifer Morgan, executive director of Greenpeace International, said it the best when referring to a change in wording during negotiations from phasing out to phasing down coal: "They changed a word, but they can't change the signal – that the era of coal is ending."
The Methane Pledge: Over 100 countries including the U.S. and the European Union committed to immediate action on reducing methane emissions by 30% (compared to 2020) by 2030.
France, Germany, the United Kingdom, the U.S. and the European Union launched a ground-breaking International Just Energy Transition Partnership with South Africa aimed at decarbonizing its electricity sector away from coal and fossil fuels.
India, the world's third-biggest emitter of greenhouse gases, has pledged to achieve net-zero carbon emissions by 2070.
Did all the commitments and pledges at COP26 go far enough to keep climate-change to 1.5 degrees?
Unfortunately, not. See this detailed brief by Carbon Brief for more information.
Current policies in place today will lead to a best-estimate of around 2.6°C to 2.7°C warming by 2100 (with an uncertainty range of around 2-3.6°C).  If countries meet both conditional and unconditional nationally determined contributions (NDCs) for the near-term target of 2030, projected warming by 2100 falls to 2.4°C (1.8-3.3°C).  Combined with recent "Net Zero Pledges", at COP26, global temperature increases are likely to be limited to 1.8°C. See the chart below from Carbon Brief for more details.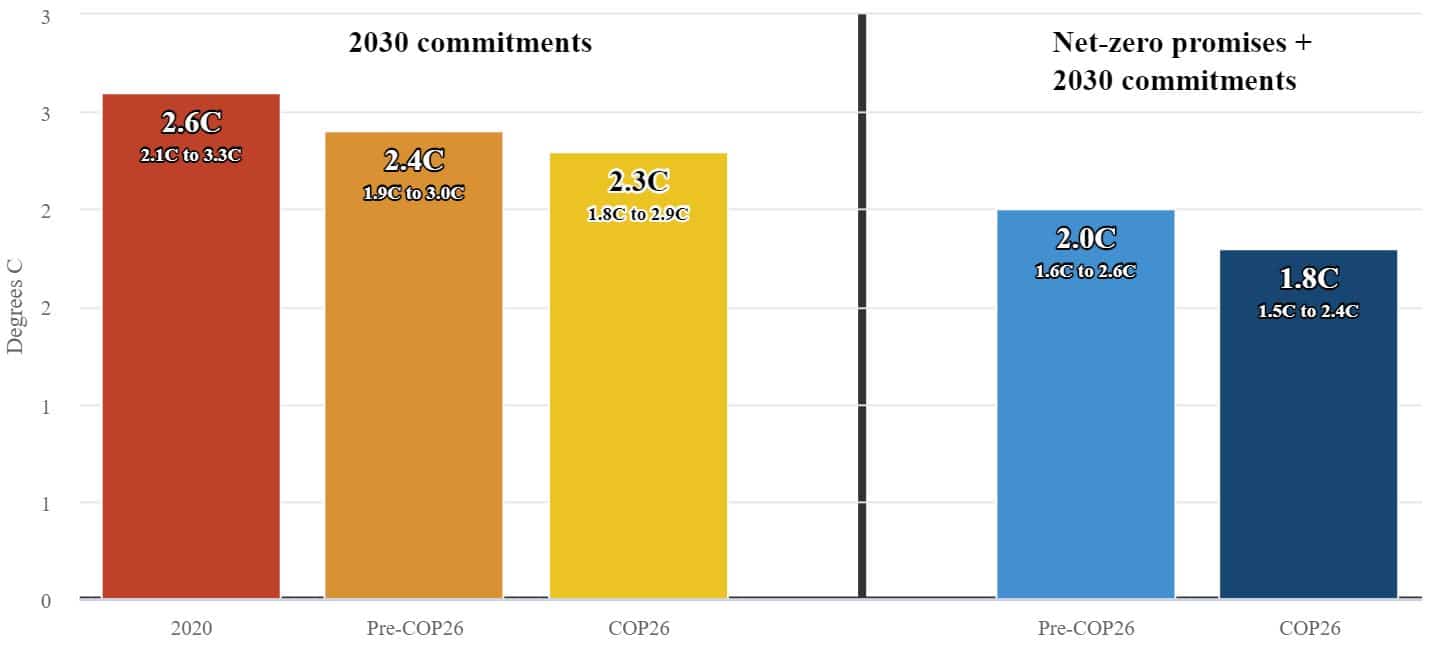 Why are we still optimistic? The financial sector has finally woken up to the financial threats of climate change:
At COP26 a global coalition of leading financial institutions committed to accelerating the decarbonization of the economy called GFANZ was announced.  Asset managers, alongside the banking and insurance sectors, comprising one third of the financial system, committed to Net Zero targets.
The U.S. Financial Stability Oversight Council identified climate change as an "emerging and increasing threat" to financial stability. Janet Yellen, attended COP26, and became the first ever U.S. Treasury Secretary to do so.
What did COP26 do for investments in forests, indigenous communities and for carbon markets?
The land use sector contributes nearly one quarter of global emissions. Reducing emissions from deforestation, ecosystems conversion, and other land sector activities – enhancing and expanding their carbon sequestration potential – are critical steps to achieving net-zero emissions by 2050.
Over 100 countries committed to end deforestation by 2030, including notably China, Brazil and Russia. We read this article on Mongabay to understand the implications, but the main difference is the scope of countries involved this time around. While pledges don't excite us easily, money does!
Nature and indigenous rights rightfully took center-stage, with Peoples Forests Partnership which highlighted that while 1% of climate finance has gone to indigenous people and communities to reduce deforestation, they manage 50% of the world's forests and 80% of all biodiversity. Carbon markets are not set up to reward early action and to protect existing forests that have not already experienced deforestation. Perhaps one of the biggest wins was the last-minute inclusion of explicit recognition of indigenous rights in the text of Article 6, the article of the Paris Agreement that regulates carbon offsets markets.
Article 6 rules were agreed to. We now have the beginning of an agreement on how countries could work together to trade emissions reductions to help them achieve their Nationally Determined Contributions. Parties agreed to how to prevent double-counting via corresponding adjustments, how to 'tax' the trades of emissions reductions to support adaptation, the "carryover" of carbon credits generated under the Kyoto Protocol since 2013, and to new rules that would enable countries to link their emissions trading schemes, for example, or buying offsets towards their national climate goals. You can read this article to understand Article 6 basics. 
Implications for EFM:
Article 6, will provide the much needed regulatory certainty to unlock further corporate investments into forest carbon projects globally, boosting demand. That combined with the growing recognition of the role of communities, especially marginalized indigenous communities, will provide more opportunities for EFM to source and structure high quality forest carbon offset projects in partnership with local communities across the Americas.
EFM's management strategies can increase the amount of carbon sequestered by our forests (via removals and avoided emissions). We are encouraged by the increasing recognition among the financial sector that forestland investments, if managed appropriately, can play an important role as a climate hedge in their portfolios.
Contact us to learn more about our net zero portfolios and forestland investment services.
Other Recommended Reads: